Norway's four major cities offers distinct appeal -
Oslo
is present-day capital and financial center,
Bergen
is a picturesque former Hanseatic trading port and 'gateway' to Fjordland,
Stavanger
is Focal point of the Norwegian oil industry, and
Trondheim
is a long-established center of Christian pilgrimage, and more recently, technical research.
Norway Photo: Reindeer-Drawn Sleighs
Reindeer are central to Sami society—though traditional nomadic lifestyles in Norway are nearly a thing of the past.
Norway is foremost a land for those who love
nature
. However, it also offers a rich
cultural
experience, as would be expected of such varied
history
, from the
Vikings
of the eighth and ninth centuries, to later luminaries such as artist
Edvard Munch
, author
Bjørnstjerne Bjørnson
and composer
Edvard Grieg
, whose centenary Norway celebrated during 2007.
Norway's dramatic scenery and extensive wilderness areas offer scope for a variety of exciting activities.
Hiking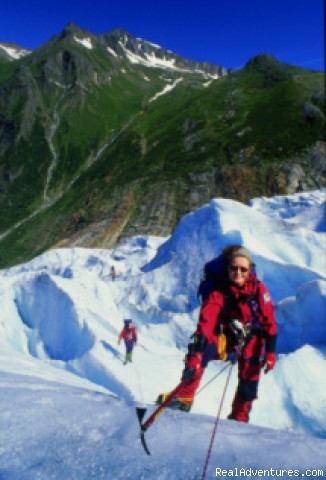 In Norway, hikers are well catered for. The Norwegian Mountain Touring Association (DNT) (tel: 2282 2800; website:
www.turistforeningen.no
) offers guided trips, and maintains more than 400 mountain huts, both staffed and unstaffed. Membership can be bought at a DNT office, a hut or at tourist offices. The DNT also sells maps, and provides information. Glaciers are another attraction for outdoor enthusiasts.The largest mainland glacier in Europe is at
Jostedalsbreen
, near Stryn. Daily glacier walks are organized in summer in the company of experienced guides. It is important to remember never to venture onto a glacier without an experienced guide. For information about organized glacier walks, contact the glacier center at Jostedalsbreen (tel: 5787 7200; website:
www.fjordinfo.no
or
www.jostedalsbre.no
)
or
consult the following for glacier tours (tel: 5787 6800; website:
www.bre.no
).
Wintersports
Norway claims to be the birthplace of skiing. The country has about 30,000km (18,750 miles) of marked ski trails, winding their way through unspoiled scenery. Both cross-country and downhill skiing are available from November until the end of May. Although skiing is at its best just before Easter, when the days are getting longer, it is possible to ski for long hours in the winter, since many of the tracks are illuminated. In summer, it is possible to go skiing in several parts of Norway. For further information about summer skiing, contact Stryn Sommerskisenter (tel: 5787 4040;
website
:
www.strynefjellet.com
).
Other
Horse riding holidays are becoming more popular. There are riding schools and clubs throughout the country with horses for hire and instruction provided. Also a number of hotels keep horses. Despite its often mountainous terrain, Norway is a popular destination for cycling holidays. Many old roads have been made into cycling routes. For further information, contact Sykkelturisme i Norge, SND, PO Box 3132 Handelstorget, N3706, Skien (fax: 3352 9955; website:
www.bike-norway.com
). Fishing is popular on Norway's many inland waters and surrounding sea. There are over 100 salmon rivers flowing into the fjords, where reasonably priced sport is offered. A national fishing license is necessary, obtainable from post offices. A permit is required for freshwater fishing.
Oslo (Bogstad links), Stokke (between Tønsberg and Sandefjord) and Meland (36km/22 miles north of Bergen in the fjord landscape by the Herdlafjord) all have 18-hole golf courses; there are shorter courses in Bergen, Hamar, Kristiansund, Sarpsborg and Trondheim. Altogether, Norway has 39 18-hole golf courses. Most clubs are open to visitors. The Norwegian Golf Federation can provide further information (tel: 2273 6620; website:
www.golfforbundet.no
). A number of resort hotels have their own tennis courts. A number of hotels, campsites and chalets have boats for use by visitors on the coast and inland waters. Hotels and campsites located near stretches of water often hire out equipment for windsurfing or water-skiing and offer instruction. Norway's coast and inland waters are ideal for bathing in warm months. There are several specially designated beaches for naturists.
Norway Food & Dining
Norway has a long history of fishing, although much of the high quality shellfish and other species caught off the coast are exported. However, fish remains a staple, along with meat, potatoes and other root vegetables, although tastes have altered in recent years to encompass a wider international choice, including pizzas and burgers. The favorite traditional hot snack is the
pølse
, a form of sausage, sold at numerous outlets.
Close-up of lobsters, Norway
The roadside
kro
(traveller's restaurant)
is a good choice if one wants to sample traditional Norwegian fare.
Breakfasts are often enormous with a variety of fish, meat, cheese, sweet whey cheese and bread served from a cold buffet with coffee and boiled or fried eggs. Open sandwiches are topped with meat, fish, cheese and salads. Popular dinner dishes include meatballs (
kjøttboller
or
karbonader
) with boiled potatoes, boiled fish and
bacalao
, a spiced dried cod stew. Alcohol tends to be limited in availability and expensive, although beer and wine are generally available in restaurants. Licensing laws are strict and alcohol above 4.7% ABV for home consumption is sold only by the state through special monopoly stores. Beer and cider is sold in general stores. Illegal moonshine spirit is widely consumed.
N
ational specialties:
• Brunost
(a sweet brown cheese made with whey).
• Roast wild elk, or reindeer.
•
Lutefisk
(baked preserved cod).
• Grøt
(a form of porridge).
• Multer
(cloudberries - a summer delicacy).